Student Exchange 2022 – Opportunity Knocks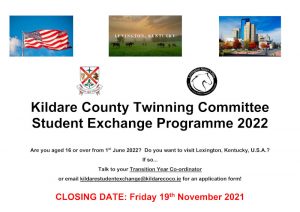 County Kildare has been twinned with Lexington, Kentucky, U.S.A. since 1984. Lexington is a charming city of about 300,000 population, is situated in the middle of the county, surrounded by horse farms and breeding establishments. Over the years, many people from Kildare (young and not so young!), have had the opportunity to visit Lexington and to enjoy the welcome and hospitality of its people. We also have had the opportunity of welcoming our Lexington friends to Kildare many times too.
One of the most successful aspects of our twinning with Lexington has been our annual Student Exchange – affording Kildare students the opportunity to spend time in Lexington and to welcome a student into their home in return. The exchange takes place during the summer holidays. We have had students (usually from Transition Year but essentially from the age of 16+ years) from several schools around Kildare.
An adult chaperone accompanies the students, Kildare students go to Lexington first with their U.S. counterparts coming here some days after their return home.
The exchange is supported financially by County Kildare Twinning (through Kildare County Council) which also organises a programme of activity for the visitors and their local hosts while they are in Kildare. In addition to the financial support, the fee payable by each student will be between €600 and €700, depending on flight costs.
Next year, we plan that Kildare students will go to Lexington at the start of July; likely travelling on 1st July, returning on 11th July, with the U.S. students coming here from 15th July to 25th July.
We are now inviting interested students to get in touch with us using the official application form. You must have your parent(s)/guardian(s) consent to apply.
So, if you…
will be over 16 on 1st June 2022
would like to experience life with a family in the US
would like to have a great holiday in Lexington, Kentucky during summer 2022
can welcome a student back into your home
Then fill in the application form and return it to us.
Participating in the exchange is a fantastic opportunity to have a great summer and make new friends – so don't delay, apply now!
Privacy Statement for 2022 Student Exchange Programme
Questions? Talk to Ciara –
email kildarestudentexchange@kildarecoco.ie
or phone 045 980660